Tonearm »9.6«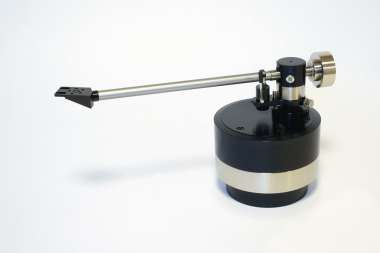 We have developed the tonearm »9.6« and the cartridge »Pi« as a completion for our two direct drive turntables »Oasis« and »Bardo«.
The 9.6 has a close resemblance with the 10.5 tonearm. Various component parts that have proved to be perfect in our tonearms like the arm tube with the special hard ceramic surface, the headshell, the tonearm lift and also the mounting socket are also used for the 9.6 tonearm. Therefore the 9.6 can be mounted on tonearm bases with the same drillings as the 10.5 or 12.1.
The 9.6 uses a different bearing technique than the 10.5, it is a kind of unipivoted design. We use a miniature bearing mounted on a stainless steel tip for the horizontal mounting. A ceramic bearing at the bottom prevents the sideways motions of the tonearm. This bearing is friction free and allows a very smooth play. Unlike a magnetic or hydraulic damping, this solution creates a lively and also stable soundstage. The same miniature bearings are used for the vertical movement in a play free adjustment. The sound performance of our new tonearm 9.6 reaches our established tonearms well; of course it is a first match for most different cartridges.
The new version of the »9.6« features an infinitely variable Azimuth adjustment.
| | |
| --- | --- |
| Brinkmann 9.6 | Specifications |
| Distance platter center to tonearm bearing center | 231.5 mm |
| Effective length | 248.3 mm |
| Overhang | 16.5 mm |
| Cartridge mount | 1/2'' connector, long holes |
| Minimum distance between mounting surface and platter top | 28 mm |
| Dynamic mass | ca. 12 g |
| Total weight | ca. 400 g |
| Counterweight | 140 g |
| Scope of delivery | tonearm with 5-pole-SME-connector |