Cartridge Ā»EMT-tiĀ« (discontinued)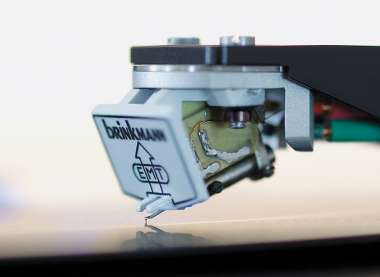 The cartridge is essentially an EMT, which then undergoes heavy modifications. The list of modifications includes a vdH stylus, an aluminum mount with a resonance optimized contact patch (made of several layers of copper, titanium, beryllium, other special materials) and lastly our special sound-optimized tiny screws.
The Ā»EMT-tiĀ« has been carefully optimized to sound its best with our tonearms and turntables, although you may of course use it with any combination of your choice. Either way, our Ā»EMT-tiĀ« will reproduce records with uncanny musicality and unheard-of great sound.
360Ā° Full HD Video on Youtube
| | |
| --- | --- |
| Brinkmann EMT-ti | Specifications |
| Type | Moving Coil |
| Weight | 11 g |
| Stylus | vdH, radius 4 µm |
| Compliance | 15 µm/mN |
| Tracking force | 1,8 - 2 g |
| Vertical tracking angle | 23° |
| Output voltage | 0,21 mV (velocity 1 cm/sec) |
| Output impedance | 25 Ohm |
| Load (recommended) | 600 Ohm |
| Body | Mountingplate with M2.5 thread, |
| | resonance filter made of aluminum, |
| | copper, titanium and beryllium |
| Included in delivery | cartridge, mounting hardware, |
| | individual measurement info sheet |